Kitchen & Bath Products in Calgary, Red Deer, Edmonton and Surrounding Area
---
Kitchen & Bath
Finding the right style is all about personal taste and lifestyle, and our design experience will help make your custom dream kitchen or bathroom a reality. At Dittmar Stone & Tile, Christoph and Melanie will work with you to create a space that suits your lifestyle and reflects the latest advances in design and technology.
Countertops
Our ability to create custom countertops from a wide range of natural and engineered stones can give you exactly what you desire. With expertise in both kitchen and bathroom countertops, we will address every aspect of your project until it meets our high standards … and yours! From assistance in selecting the right materials to finished design, we are always available to provide advice, ideas, and solutions.
Backsplashes
A custom backsplash is one of the visual centerpieces of your kitchen or bathroom. Whether you are design styles are ultra-modern or a very traditional, your choice of backsplash will have a significant impact on the look and feel of your space. It is a key area that needs special attention and Dittmar Stone & Tile will help you select the right materials and design that will provide the visual impact you desire.
Showers
A custom shower can turn a great bathroom into an amazing show-stopper. Our expertise will assist you in selecting everything from design, materials and fixtures that will match your design inspirations and not lose sight of budget. From todays design trending features such as wide format panels to traditional tile work, let Dittmar Stone & Tile make your shower everything you dreamed of.
Commercial Projects
Interior designers, architects, and commercial contractors trust Dittmar Stone & Tile. We provide materials, countertops, and delivery in a timely manner to fit your build schedule. We are skilled at providing accurate quotes, identifying potential issues, and will help you select the materials to fit any budget and design intent.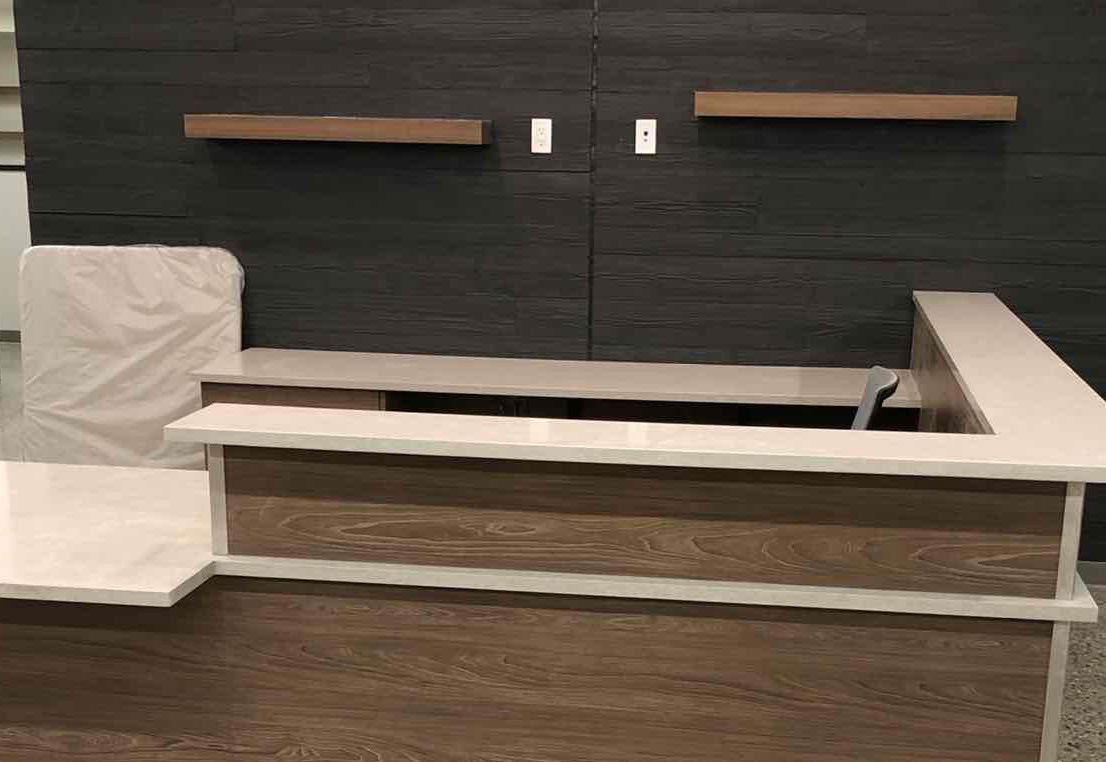 Fireplaces
A custom fireplace is another feature that will make your space stand out. With their naturally striking variations in stone size, shape, color and texture, custom fireplaces are always amazing with their notably individualized looks. No matter if it is wood burning or gas, Dittmar Stone & Tile will help you with material selection and design that will provide the impact and functionality you desire.
Outdoor Spaces
Creating an outdoor living environment is one of the leading trends today. Adding pieces to your outdoor design will help create a space as welcoming as the inside of your home. Let Dittmar Stone & Tile help you build that perfect outdoor space.
Kitchens
The luxury of custom designs means you get to adapt them to your personal style. Say goodbye to the one-style-fits-all rolling barbecue cart and hello to an outdoor kitchen that matches your personality. At Dittmar Stone & Tile, Christoph and Melanie offer an array of designs that range from modern all the way to rustic. Not only can you choose between colors, but you can also select materials based on texture and scale, giving you complete flexibility when it comes to customizing your space.
Fireplaces
Just like your indoor fireplace, your custom outdoor fireplace can create a striking focal point in your outdoor space wile also serving afunctional purpose. They add a touch of warmth on cool nights, create ambience … and you can even cook your s'mores. Mix and match styles by with stone and patterned tiles. It will give the outdoor space a unique feel, creating the perfect spot to sit back and relax.
Fire Tables
Nothing provides an accent to your outdoor space like a custom designed fire table. Dittmar Stone & Tile will assist you in designing a unique fire table that includes selections from different heights and shapes to ensuring that materials you choose will tolerate our unique weather conditions.
Sinks & Faucets
As part of our start-to-finish service, we offer a full range of sinks and faucets. This ensures our countertops are custom made to accommodate your choice of fixtures.